This awesome idea came about as I flipped through ideas on Pinterest, the original pin was for a boyfriend but could easily be change to fit as a gift for any loved one. So the kiddos and I made this for Father's Day for my Dad, since there's 5 of us we each came up with 10 reasons we loved him and then one from the cat and dog to get our 52 reasons.
The first thing you'll need to do is get a deck of cards that has a defined rectangle to glue your reason onto each card, ours was placed it on the inside(bottom) of each card but I've seen it done on the outside(top). After you come up with your 52 reasons they will need to be printed out from the computer. I used microsoft word with the Action Jackson Font at 10 picas on regular weight paper. After printing I cut the paper to size for our rectangle and lightly applied Mod Podge to the card then laid the "reason" down and applied another layer of Mod Podge over it. You don't need to do the extra layer over the "reason" I just wanted it to last since this project is time consuming and a sure keepsake.
Once the cards are fully dry punch two holes on each card so it opens like a book, using metal book rings through the holes to finish off creating your 52 Reasons mini book.
Total project time was 5-7 hours, mostly due to drying time.
This can be done as a gift for Mother's Day, Father's Day, Grandparents, a boyfriend or girlfriend.
52 Reason was Pinterest inspired
HERE
Want to link up? Check out my list of awesome Link Parties.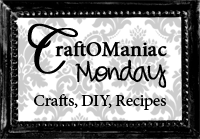 ;